Home
Product Positioning Project Section4
Learn how I researched product positioning for Stackbit and see my recommendations.

Stackbit Challenge
The Challenge for Stackbit
While I don't have the experience of working for Stackbit to understand what their internal challenges are, I do have a great framework from the Section 4 Product Positioning sprint and I conducted a deep dive on all of the public marketing and Discord channel to see what customers were saying.
The problem I first noticed when I found Stackbit was that I wasn't sure who would spend money on this product. It's not because it is a bad product , because this was something that I was super excited to find as a developer and use in my own career. What didn't make sense to me was why the business solution was $500 a month, which would make it impossible for me to make money selling this product as a Freelance Full Stack Developer. I also noticed on Discord that there were many developers complaining about the $500 cost of their business solution.
I don't have access to the companies sales numbers or anything, but it would appear that Stackbit isn't attracting a large following yet, at least on social media. Since it's founding three years ago, it seems to me that Stackbit may still be figuring out their optimal positioning. I believe they could benefit from segmenting their best fit customers into groups, review and/or revise competitive alternaitves, updating their perceived unique attributes, and by better defining their differentiated value that can be used to better position Stackbit.
Best Fit Customers
Developers
Developers are the customers who will have the easiest time finding Stackbit and understanding the value of the product. The technologies that Stackbit uses are well understood by most developers. These three categories of developers are who I consider to be the best fit customers in this category:
**Jamstack Developers: Jamstack has been growing in popularity and there are many developers who are taking advantage of this tech stack that utilizes Static Site Generators and a Headless CMS. I have been using Jamstack a lot lately and that is actually how I came across Stackbit.

**NextJS and React Developers: Stackbit uses the React framework called Next JS to build user interfaces on the Sourcebit platform. Next JS and React developers would find value in Stackbit because it is a great way to be able to develop both locally and in the online editor of Stackbit. Plus, they won't have to go learn any new languages or frameworks to begin using the platform!

**Freelance Developers: Freelance developers who don't operate with a big budget would love the free option of creating websites on Stackbit. It is a great solution for developers that want more control over creating pages and content, than they would using WordPress or other CMS solutions.
*Note - none of these are actual categories created by Stackbit - but are actual categories created by me.
Non-Developers
I struggled to find interactions with non-developers and so there isn't a lot of data I have on Stackbit's specific non-developer customer base. However, this segment of customers are the most important to Stackbit because they are teh ones who will be purchasing priced business and enterprise solutions.
Medium, Large, and Enterprise Business Customers: Businesses with anywhere from 20-20,000 people are the key target market. I discovered this in a post on Stackbit's Discord Serverby the CEO Ohad Eder-Pressman. He explains his rationing for the $500 a month cost of the business solution in response to feedback left by a developer who didn't understand why the pricing was so high: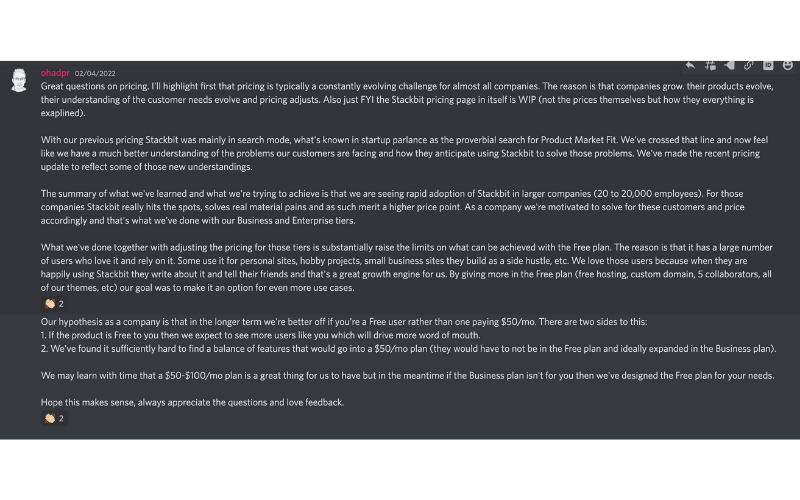 Competitive Alternatives
SquareSpace
SquareSpace is one of the top website hosting and building platforms available on the market
Wix
Wix is also known to be a website builder and hosting company that makes it easy for developers and non-developers alike to create websites
Wordpress
Wordpress has long been the go to solution for everyone to easily get a CMS and website up and running
Unique Attributes
Flexible for Anyone to Use
The Stackbit system takes the best modern technologies that typically only developers have been able to access for a long time, and makes them available to even non-developers with a platform that is intuitive enough for even non-developers to use.
Fully Customizable and Editable
With Stackbit, you aren't locked in to building websites a certain way or only with their technologies they offer. You can use whatever setup you have with however many developers and editors that you need. It truly is the most flexible website builder I've encountered.
Easily Scalable
Stackbit makes it easy for big companies to scale their websites easily and without hassle. The online editor makes it easy enough for anyone to use without being a developer. This makes communication and workflow move along much smoother for everyone in the process. The architecture of Stackbit also makes it easy to set up your website for scaling up easily.
Strong Community
As a developer myself, I can tell you one of the first things I always check when dealing with a new technology is the product's community. Stackbit has a very responsive community on their DIscord channel where Stackbit workers are always around to answer questions quickly. The community is somewhat small right now but it appears to be growing and will grow further with correct positioning.
Referencing the Positioning Canvas
Reference Canvas covers most of the sprint frameworks
What would customers use if Stackbit didn't exist?
What features/capabilities does Stackbit have the competitors don't?
What value do your unique attributes enable for customers?
Who cares a lot about that value?
What context makes the value obvious to your target segments?
Validation Plan
Apply for Job With Stackbit and Share Plan
I have wanted to work at Stackbit for a while but wanted to do my research first to maximize my first impression when submitting an application. This project came at a perfect time as I think that working on positioning could be a large benefit to Stackbit as they continue to grow their products and company. I'm not sure exactly what their numbers are or if this is something they are already doing, but it is a start for me to show that I understand positioning and have utilized my efforts in a professional business sprint to research Stackbit using advanced business frameworks.
I also begin a Platform Strategy Sprint through Section 4, starting on Monday, April 18th and I can further extend my efforts to possibly help out Stackbit by learning from industry leaders and my peers.
Clarify Messaging With Stackbit
I want to understand what the messaging internally at Stackbit is and see who their actual customers are. I think understanding this can help me more carefully suggest how to approach clarifying that message and figuring out how to best position Stackbit. I don't think positioning as the new Wix or SquareSpace is the best positioning statement. Personally, I think the positioning should focus on being the collaborative online editor that developers love because its free and/or they get to easily work together with non-developers to create awesome websites. It should also include focusing on the fact that Stackbit is the ultimate solution for companies with 20-20,000 employees because it is intuitive and allows for easy collaboration and website editing.
Continue to Research Customer Demographics and Psychographics
I will continue to research what solutions developers are using that are similar to Stackbit . I can get more feedback by creating Stackbit sites on my Twitch channel to see what people think of the product and ask what site editors they use, if they do. If I can collaborate or work with Stackbit, I think we could really refine their positioning statement and focus on targeting larger companies and enterprises as Stackbit and not as a Wix, SquareSpace, or any other website platform.
There wasn't enough time for me to dive too deeply into the psycographics of Stackbit's customers and that will be vital to improving whatever positioning value there is or how to go about changing it. More demographic research is needed as well for me to understand all of the purchasing habits of their clients. I could only go off the purchasing habits of what I think their customer actually does.